Things took a turn for the better today.
First, it stopped raining.
Second, it's warming up, almost 72 right now.
Third, I traded the Triumph in on a Victory Vision Tourer.
I've only been able to put about 60 miles on the new bike so far, but I'll be heading out in just a few minutes to add some more. The big test will be tomorrow. I'm planning on taking some two lanes all the way to the northernmost tip of Maine and back. It should be over 450 miles total, and enough to warrant stopping back at the dealer first thing on Thursday for the first service.
The Victory gives up a lot to the Triumph in terms of power. On the highway, it goes fast, just not as quickly as the Triumph could; but, what it gives up in power it gains back in features. Full fairing, stereo system with auxiliary inputs, heated seats, lots of little data related add-ins in the dash. To put it bluntly, the Victory is a touring bike designed for riding thousands of miles on a long trip like this. The Triumph is a touring bike, too...it's just not my touring bike.
Tomorrow is looking very promising in terms of the weather. It should be sunny from the time I hit the road in the morning until well after I get back to the hotel. Thursday is looking pretty good, too, and should help me make some headway getting south and heading towards the Outer Banks. I was seriously considering not going to the Outer Banks as part of this trip if I had to do it on the Triumph. I wouldn't have had enough time to ride all the miles I needed to ride to make it happen. Tomorrow will give me a much better feel for how long I can stay in the saddle and how far I should expect to go.
I'm looking forward to seeing a lot of rural Maine on Wednesday. Hopefully I'll get plenty of great picture opportunities.
Tomorrow is another day, and another road.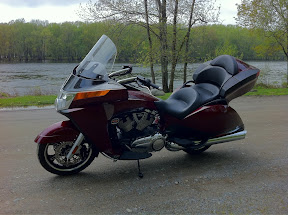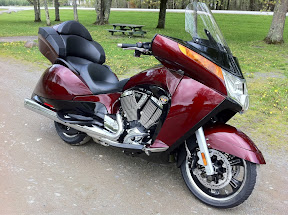 - Posted using BlogPress from my iPad & iPhone
Location:Perry Rd,Bangor,United States