Victory, thy name is...comfort.
I rode I-95 from Bangor to Medway, first thing this morning. It's actually very similar to riding the blacktop in Michigan, between Clare and Big Mac, only here in Maine there are a lot more rocks and boulders in the median and along the side of the highway.
I got off the interstate, at Medway, and took route 11 north, all the way to Fort Kent. Very beautiful ride, reminiscent of M-41 in the UP back home, only the hills here might be a little bigger and it was a longer ride. Fort Kent is right on the border, and I was surprised, but not surprised, to hear most of the adults speaking French (with a little English sprinkled in) when I stopped at McDonald's for a drink.
US-1 runs along the river, so you can see Canada for miles and miles...tends to look just like the U.S. side, only more Canadian.
US-1, from Fort Kent to Houlton, was a little less "hilly", but just as scenic. Sweeping vistas of hilly terrain and large rolling hills follow the border from north to south.
Once I got to Houlton, it was back onto I-95 for the ride back to Bangor. More of the same from the morning. Lots of trees and rocks, and very few cars or trucks.
It was about 440 miles of riding today, just a little over 9 hours actually sitting in the saddle with the bike in motion. Less than 2 hours of total stop time between when I left Bangor and when I returned.
Some random thoughts from the day:
Cruising the interstate, when there are no other vehicles, is actually very nice. The road is yours, you own it. No turbulence, no noise, just you and your ride enjoying what's there to enjoy. I had over 100 miles of this today.
Cruise control = AWESOME (especially when you have no competing traffic on the interstate.)
Riding 400+ miles and having only the things you know should feel sore feel sore at the end of the day...priceless.
Victory has put a lot of effort into crafting an excellent ride. I averaged over 40 miles per gallon today...I may have just found my new favorite transportation.
There is no way to describe, or depict, the exhilaration of cresting a hill to a sweeping view of the valley below, the road dropping before you like a roller coaster, disappearing into the twists and turns, and all you can see is where it comes out of the valley on the other side and know you you're really going to enjoy getting from here to there.
You would think that by the age of 39 a man would remember not to rub sunscreen into his eyes. I had to stop twice today, just for that reason. D'oh...
There is also no camera that can accurately portray the scenery that one takes in as one travels. The pictures below are but a poor attempt to show you just a fraction of what I saw while I was out today.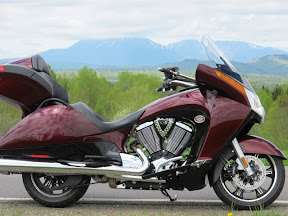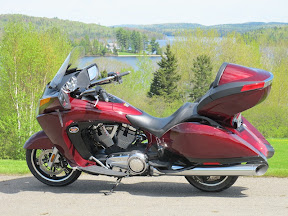 Thank God for a fairing and a windshield...those bugs would have been all over me otherwise.
Tomorrow brings a ride down to Providence, Rhode Island, via the Kancamagus Highway (otherwise known as the looooong way around.)
Tomorrow is another day, and another road.
- Posted using BlogPress from my iPad
Location:Perry Rd,Bangor,United States